A brief history of the Black Community School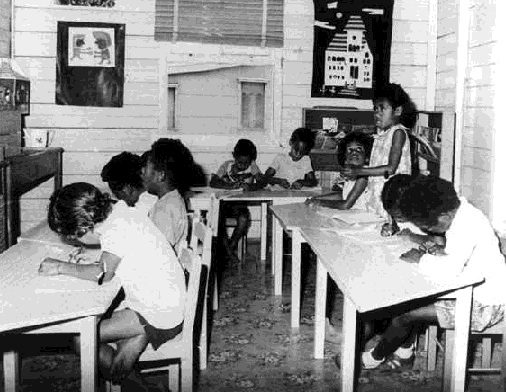 The school commenced in 1973, with ten students, in an old Catholic school building in the heart of inner city Townsville. Two teachers, disenchanted with the approach to indigenous education within the Queensland State Education system, volunteered to work for half pay to help establish the school.
It commenced with financial support from parents and some local trade unions, Koiki relying on his contacts with Townsville's Trade's and Labour Council. The school also received initial support from the Australian Union of Students, the Australian Council of Churches and the Aboriginal Arts Board. It eventually received limited support from the Australian School's Commission, a program of the Whitlam and Fraser Governments, and the Queensland State Education system. In 1976 the Federal Department of Aboriginal Affairs took responsibility for overall funding. However under funding always affected the school's viability.

At its peak in the late 1970s forty-five students were enrolled at the school.

The significance of Mabo's achievements as an educator, was recognised in 1975 when he was asked to join the National Aboriginal Education Committee (NAEC) an advisory body to the Commonwealth Education Department. He served on the committee for three years.

The Black Community School came under enormous attack from the Townsville Daily Bulletin, the Queensland Education Department and some local politicians. The independent black school was regarded with open hostility and suspicion. The Queensland Education Minister denounced the motives of those parents involved, declaring their attitudes as racist and that such segregation would be 'apartheid in reverse'. An Education Department spokesperson declared, 'people attempting to entice children away from a State Primary school and enrol them in an unauthorised school, not recognised by the State Education department were technically guilty of an offence and risked legal proceedings being instituted against them.'

The Black Community School was able to sustain itself for twelve years and for its duration was a vital centre for the Torres Strait Community in Townsville. The school closed in 1985, due to lack of funding and the inability to secure a lease on a permanent site.
Keywords: ACTU, Black Community School, cultural preservation, education, unionism, 1973-1985
Still:Students, Black Community SchoolAuthor: Graham, Trevor.
© Mabo Family Collection